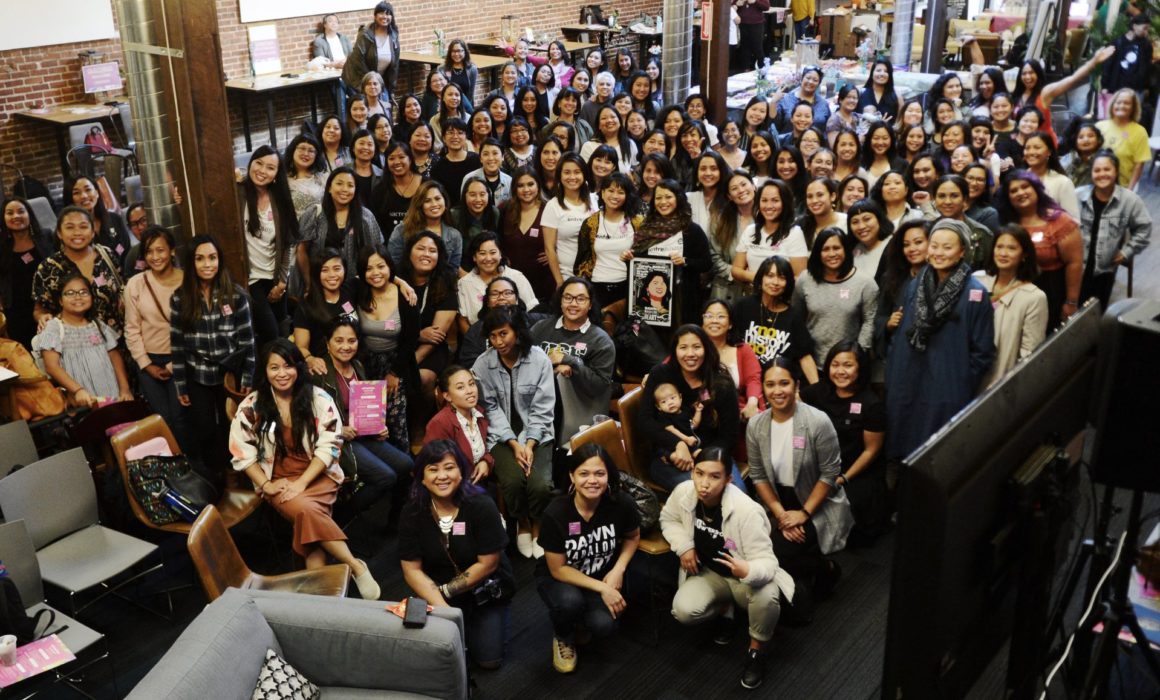 It's been a month since the inaugural Entrepinays Summit happened, and I'm still feeling the energetic after-effects of this momentous day. The day after the event happened, I posted something to Facebook expressing pure JOY, happiness, inspiration, and just AWE at the beauty of the event and more importantly, the PINAYS who were a part of it.
This day was truly POWERFUL. Gathering 130 FILIPINA women, Pinay entrepreneurs & aspiring entrepreneurs in one room at Covo, grounded in sisterhood and #pinayism, grounded in love and openness, and with the sole purpose of building community and lifting each other up. WOW. As it was happening and especially after, I had a feeling in my gut that this day was going to be a DEFINING MOMENT in my life. I'm still confident that is the case.
From the beginning of the day I was emotional. As with all events I plan, we started with an energy circle with our core planning team, lightning talk speakers, my Mama Lillian and Auntie Bel. The tears began flowing already, because we all knew what today represented for us all.
LIGHTNING TALKS — So much vulnerability, and truth, and power on that stage. 9 pinays including myself stood in our power, shared the stage, shared our most personal stories of lifting ourselves up. And we stood together. I was VERY nervous about giving my talk, sharing my story in front of my family. But it felt so uplifting and freeing to do so. And to get a STANDING OVATION from the crowd at the end…brought me to even more tears. This was only 11AM so far! Each speaker ended their 3-minute talk with "So Sisters…" and a takeaway lesson / nugget of wisdom. 
The day continued with 3 panel discussions, a morning filled with workshops focused on PURPOSE, an afternoon with workshops on PRACTICE, a Pinay Portrait Photobooth, meditation & grounding exercises, and of course lots of FOOD provided by #Entrepinays in the Food industry. At the end of the day, we joined in one large community circle, shared our hopes for the future, came together for ISANG BAGSAK claps, then celebrated with a Pulutan Happy Hour and Party!
Save the date for the NEXT Entrepinays San Francisco Summit:
October 5-6, 2019!
---
Entrepinays 2018 Highlight Reel
---
Personalized Branded Programs
We created custom and personalized programs, designed by #Entrepinay Alisa Damaso. Each pinay had their own personal schedule for the day, which also functioned as an interactive handbook for the day for attendees to color, take notes, remember highlights, and gather contact info to continue the conversations of the day.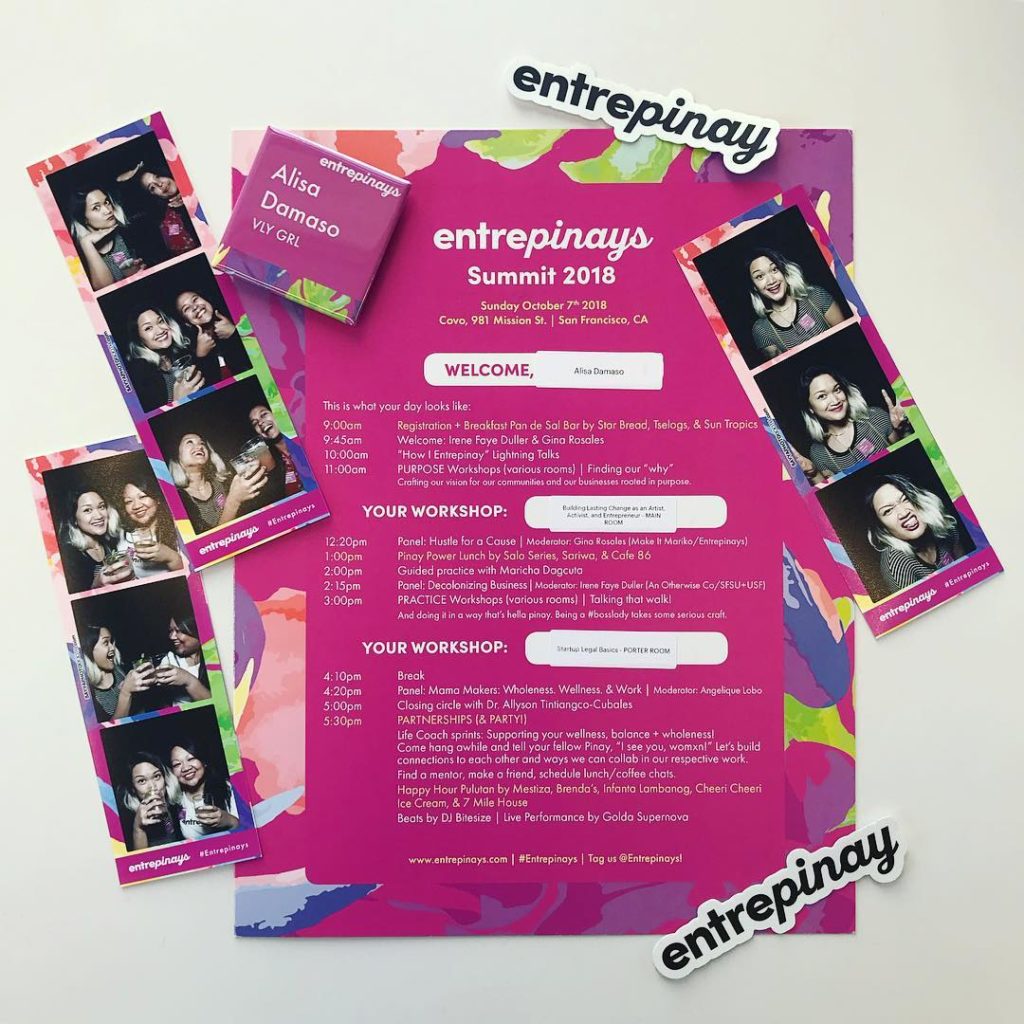 *Photo c/o Alisa Damaso
Shout out to our amazing event SPONSORS
You believed in us, in our mission, and our vision, and you put your money where your mouth is. For that we are so grateful!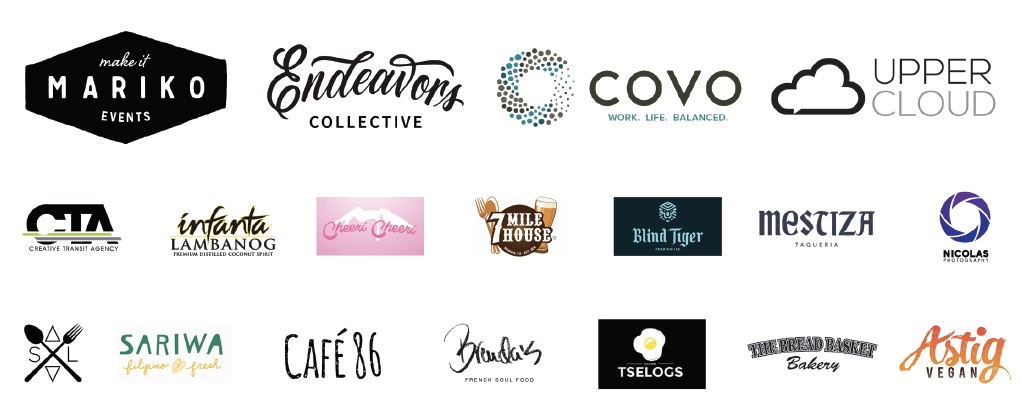 And thank you to our Entrepinays Scholarship Ticket Sponsors:
Sonia Delen
Desi Danganan
Virna Gran
Pinterest
Ruby Veridiano
Lily Ann Villaraza
2018 Entrepinays Planning Committee
And of course, huge gratitude to our 2018 Entrepinays Summit Planning Committee! You all gave so generously of your busy lives to help make this dream a reality: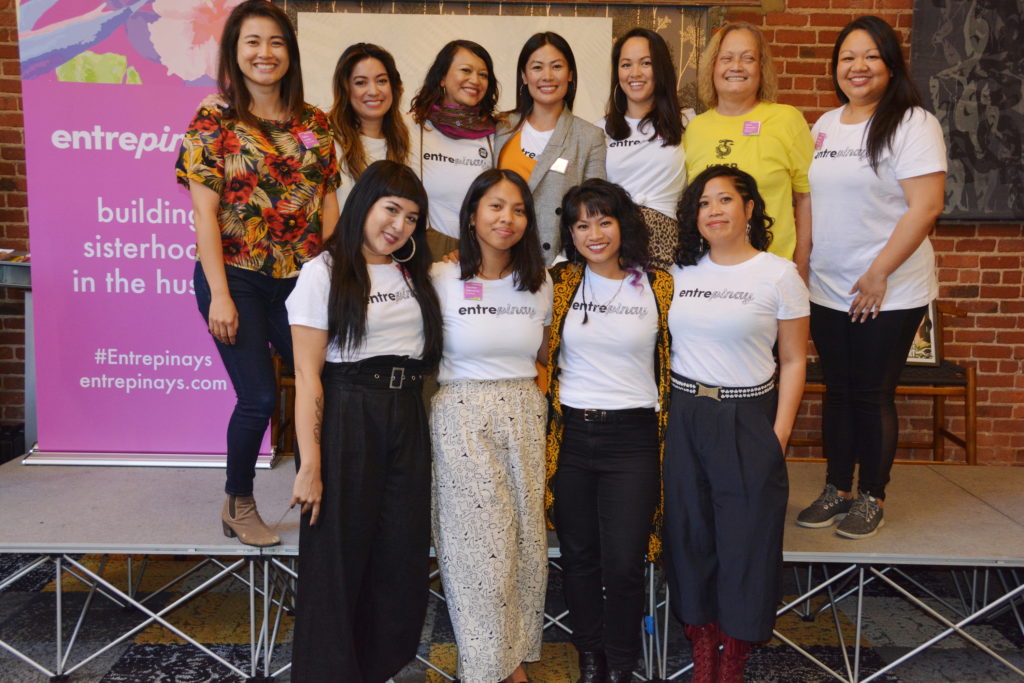 Front Row (left to right): Stephanie Gancayco, Junalene Demavivas, Gina Mariko Rosales, Irene Faye Duller
Back Row (left to right): Felicia Jacobe, Ning Recio, Allyson Tintiangco-Cubales, Glenda Macatangay, Angelique Lobo, Pearl Parmalee, Joanne Boston
This is only the beginning! Check out the official Entrepinays website for more, and join the Facebook group for daily updates.
Comments
comments