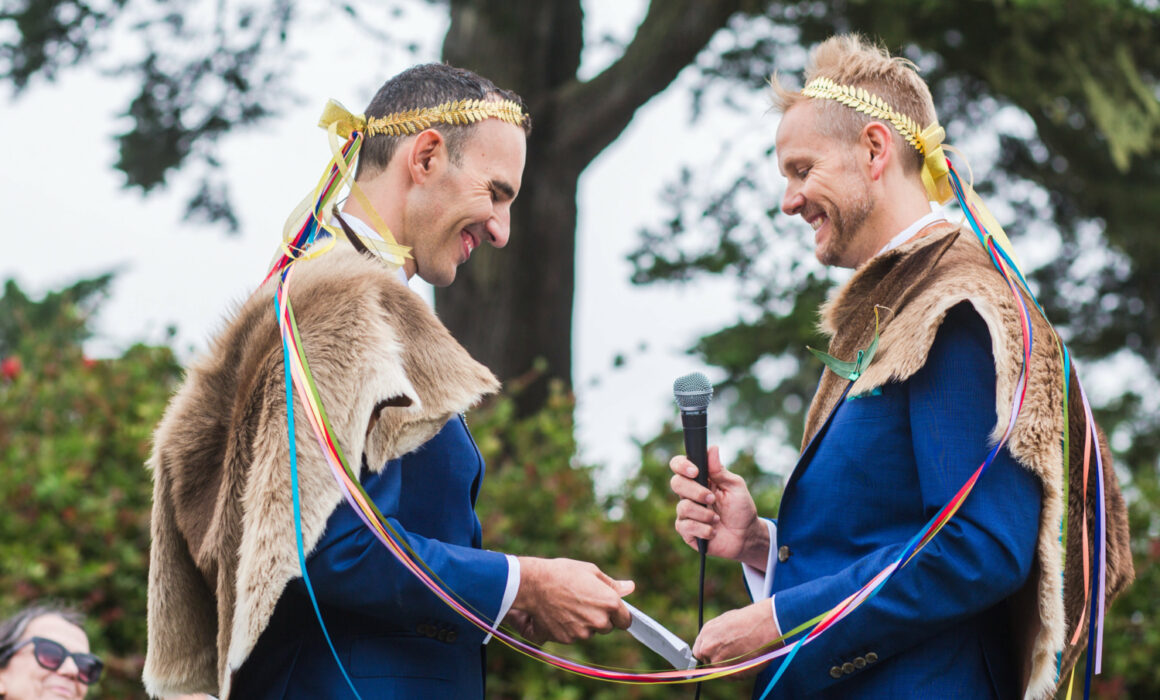 Tim & Jake's Ancient Ceremonial Wedding in San Francisco
I knew Tim from my previous job working at Waymo, the self-driving car team, so when he asked me to help plan his wedding, I was overjoyed! When I met Tim & Jake together for the first time and heard their vision, I knew that I was in for a treat. Tim & Jake got engaged atop Mount Heavenly in Lake Tahoe. In the spirit of ancient traditions Jake proposed to Tim with three stones to signify a trinity of unconditional (Rose Quartz), divine (Sugilite) and familial (Malachite) love.
Tim is closely connected with the native Australian & American aboriginal traditions and was excited to have his friends from Australia & Arizona join us to lead the ceremony complete with burning sage, smoking pipes, beautiful song, and acknowledgment of the four directions.
Tim and Jake wanted to have a grounding ceremony in the nearby tree grove so they could have a few moments together before the madness. I loved this idea! I always encourage couples to find space in the timeline just for them to be together and alone.
I appreciated Tim & Jake's no-fuss approach to wedding planning (my favorite kind of couple!), and we had a blast designing a beautiful circular ceremony setup (also my favorite kind), simple yet impactful florals, and an elaborate ceremony filled with so much personalization. I loved how they started both their vows:
"Hey sacred and holy ones…" 🙂
Since the couple had just purchased their own house, we opted for potted lavender plants to line the ceremony entrance which they could plant in their backyard after. Overall it was a joy and honor to be a part of this beautiful day with such a beautiful couple. Shout out to Alice Che for the amazing photographs!
Vendors:
Wedding Planning: @makeitmariko (Endeavors Collective)
Florals by @juna_alinea (Endeavors Collective)
Photography by @aliceche
DJ: @livinpro0f
Venue: Presidio Cafe
Sending so much love to you Tim & Jake!
Comments
comments