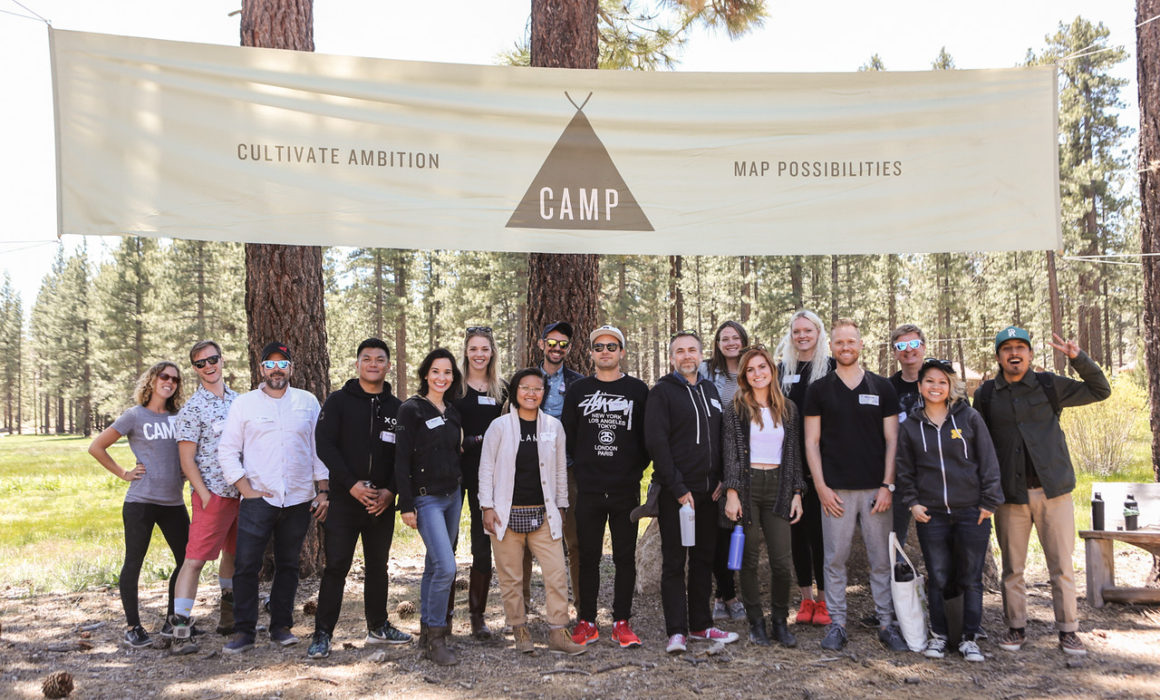 CAMP: A Creative Business Conference Like No Other
A few weeks ago I attended back to back conferences, both of which could not be more different from each other. I'll post a separate blog about conference #2, but first off, CAMP, aka The Unique CAMP. This is not your typical business conference. Imagine yourself in the woods of Big Bear, CA, with 200 other business owners, entrepreneurs, and creatives, camping in YMCA bunks, making up chants, taking workshops, doing archery, with no access to cell phones or laptops. I have to say, it was a beautiful thing full of beautiful people. 
Being Connected vs. Needing to Disconnect
The funny thing about cell phones and the internet was that when they first came about people talked about how amazing it was to be "connected" via email, AIM Instant Messenger, Facebook, etc. But now, with cell phones running our lives and our daily interactions, we often refer to the need to be "disconnected" from all our technology. I definitely have this need.
As someone who wakes up checking notifications and goes to bed scrolling Feedly and Facebook feeds, I admit I have a problem. I reveled in the idea of physically turning in my cell phone and was excited to do so. Thankfully they gave us watches in return so we could actually tell time. Imagine that — a watch! I haven't worn a watch in…never. I slowly trained myself to flip over my wrist to check the time, as opposed to reaching in my back pocket, and you know what? It was lovely. I loved wearing a watch. It inspired me to buy a nice watch that I'll wear everyday (any suggestions?).
Just Another Camper
One of the beautiful things about CAMP was that EVERYONE was a camper. Even all the workshop teachers who taught classes ranging from Basic Finance for Creatives, Improv 101, and of course my own workshop, "How to make a moonshot" based on the learnings of my other job at X, the moonshot factory. Some folks in my bunk didn't even realize I was teaching a class until they showed up and saw me at the front of the class, bumping R&B jams to get the energy flowing in the room.
*Photo of all the CAMP Teachers
Epic Astronomy Night Talk
I seriously thought this was going to be a night hike type thing where we stare at the sky and someone tells us about the constellations. Boy was I wrong. We brought blankets and our sleeping bags to the main field and were instructed to all lay down side by side next to each other, and then hold hands with the people next to us. That's right, hold hands with people you don't know. This could be weird for people with space issues, but in the context of everything, it just felt right, and I felt connected (in a beautiful human way, not a technology way).
Then Kevin, an astronomer and possibly one of the most beautiful humans I've ever met, took the mic and proceeded to recite one of the most epic, inspiring and straight kick ass talks I've ever heard. In a loud, empowering, and motivating voice, he talked about the stars, and atoms, and how we're all made of millions of billions of atoms just floating through the universe. While we are small in comparison to it all, we're also large, and in control of our lives, and deserve everything that the universe has to give us (…or something similar to that.)
Looking at the sky and stars in general always makes me think of my cousin Jonathan and my uncle Percival, who both died tragically in the past 5 years. This combo of epic star talk, holding hands with a stranger, and staring at the vast universe full of potential and energy got to me. I BALLED my eyes out. Thank you Kevin.
Other Exciting CAMP Moments
Besides epic star talks, there were a ton of exciting, and beautiful surprises that happened at CAMP. Here are a few:
A campfire complete with talks, and delicious whiskey drinks provided by Stillhouse. Shout out to their Owner and CEO, Brad, who took a chance and came to CAMP.
Late night CAMP Variety show complete with performances and themed attire of track suits. Yup, track suits.
A surprise concert put on by M83 in the woods! As an entire CAMP, we all walked, arm in arm in silence to the secret forest location where we were greeted by M83 who brought all the musical feels. We then shared a beautiful dinner in the woods where we dined as one community and toasted under the stars.
A music idol themed dance party with The Flashdance DJ, killing it and spinning records to keep the dance floor packed and struggling to breath from the altitude all night. I came as Prince, purple jacket and all.
*Filipinos at CAMP unite!
And of course, an epic last day filled with partner stretching, trust exercises, awkward yet intimate hand holding, and peaceful reflecting.
I'm thankful to have been able to attend this LAST and final CAMP experience and to have been a workshop teacher. Thank you Sonja Rasula for pouring your heart and soul into creating such a beautiful experience for so many beautiful humans. Life is all about the feels and the moments. I had many at CAMP.
-Gina Mariko
Comments
comments