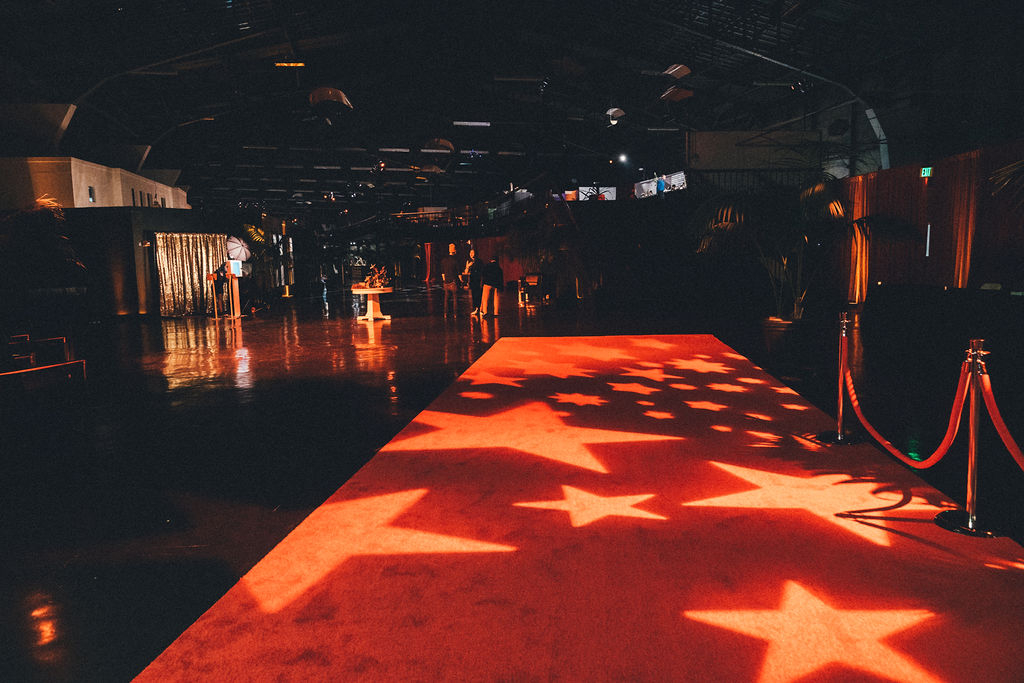 "The Stars of Search" Google Holiday Party
We were so excited to partner with Elaine Bell Catering on the Google Search Holiday Party at the Palace of Fine Arts! We worked for 6 months to plan, design, and coordinate the logistics of this huge 4000+ person holiday party. 
Because the party was for the Google Search team, we designed a "Stars of Search" Hollywood Glam theme and worked with our Endeavors Collective dream team vendor list to make this huge vision come to life. 
Venue: Palace of Fine Arts
The Palace of Fine Arts Hangar is basically a giant empty warehouse and blank slate for design. Our main challenge was to make sure the space didn't feel cold and empty, so we decided to split the main Atrium area into two unique spaces with distinct purposes. We also wanted to create an epic grand entrance to the main stage. We worked with Stuart Event Rentals to design a Winter Wonderland stage, and used 16 foot red velvet drape to divide the space. In addition, we used many of the Palace Classrooms to create unique experiences for the guests.
Experiential Design
Our focus is always to create experiences for EVERY guest so we worked to bring in activities for all kinds of interests:
Snowglobe Photobooth

Speakeasy Bar with O.G.D., a 3-piece band playing jazz and funk all night

Karaoke and a snack bar

Old school arcade

Casino games and a chips competition

Main Stage featuring 9 piece band, Hella Fitzgerald, CTA DJs, and DJ Umami

A fun Speakeasy themed puzzle for guests to solve by visiting areas in the party to find clues

Mobile Boba bar with Share Tea
Comments
comments