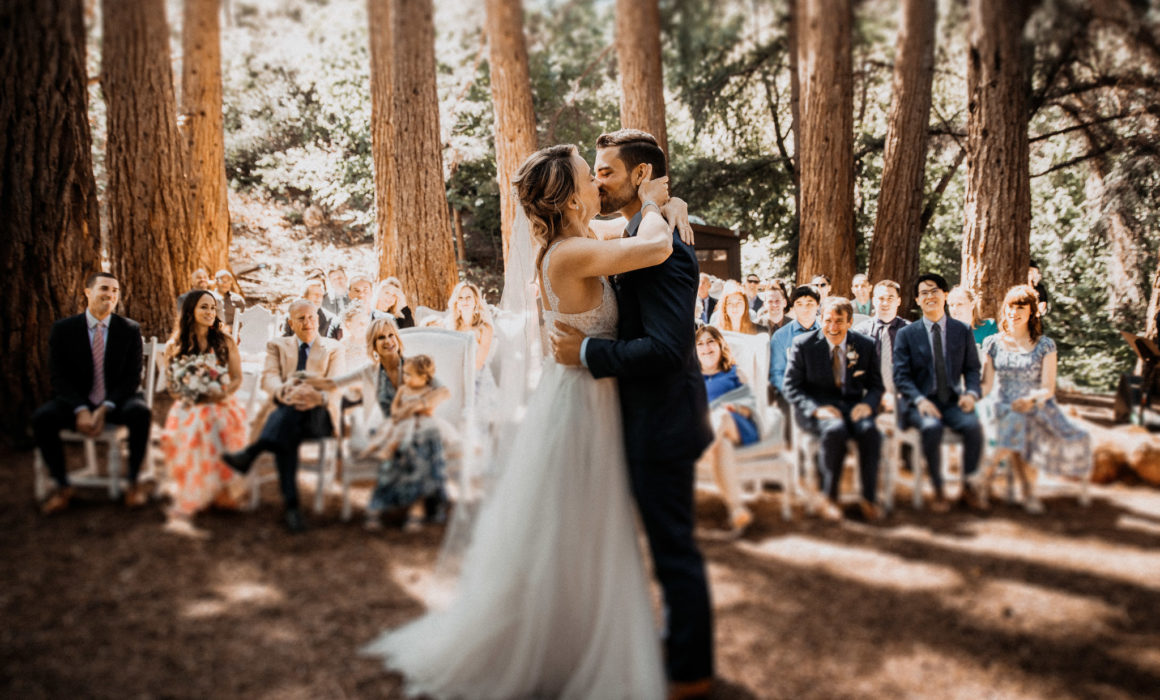 Olivia & Steven – A Vintage Fairytale Wedding in the Woods
Olivia and Steven's wedding was nothing short of a fairytale. When Olivia originally reached out to me about planning her wedding, I was immediately excited about their vision — a small, intimate wedding at Tilden Park with white vintage furniture. I said, count me in! 
Olivia and Steven are both personal trainers with busy schedules so needed someone to help bring their fairytale wedding to life. On top of personal training, I loved that they were both involved in acrobatics and Olivia does pole competitions! Holy crap, what a cool couple (Follow them on Insta at @darlingbeasties!)
They had Tilden Park Sequoia Grove already booked, and it would be a super tight window to get the one-of-a-kind vintage furniture setup and broken down in 2 hours, but thanks to the awesomeness of Gussy Up Decor, we made it happen!! Their setup team was efficient and fast and we transformed the forest into a dreamy vintage ceremony setup for 40 people.
During the ceremony, Olivia and Steven's love was oh so apparent. Once Olivia got to the end of the aisle and held Steven's hand, you couldn't help but see the couple's giddiness, as heard through Olivia's cute and distinctive laugh. It reminded me of a kid about to blow out the candles on their first birthday cake — pure happiness and joy.  She was ready to be his wife 🙂
The reception was the perfect compliment to the ceremony. Beautiful dreamy florals by Juna Alinea decorated three long tables and the fireplace. We added a heap of candles, gray table runners, and custom signage which added to the romance of this intimate ballroom at the Berkeley City Club. The couple did an epic first dance to Beauty & The Beast's "Tale as Old as Time", and the fairytale was complete. We finished the night off with a delicious cake buffet, dancing, and a final serenade by Olivia's niece to of course, Moana's How Far I'll Go. Mic drop.
#darlingbeasties
Vendors:
Wedding Planning & Design: Make it Mariko (Endeavors Collective)
Florals by Juna Alinea (Endeavors Collective)
Photography: Will Khoury
Rentals: Gussy Up Decor
DJ & Ceremony Musician: Brent Walsh of Ivy Hill Entertainment
Cake: Susie Cakes 
Venues: Berkeley Tilden Park &  Berkeley City Club 
Hair & Makeup: Alex Siakotos 
Dress: Anthropologie 
Comments
comments