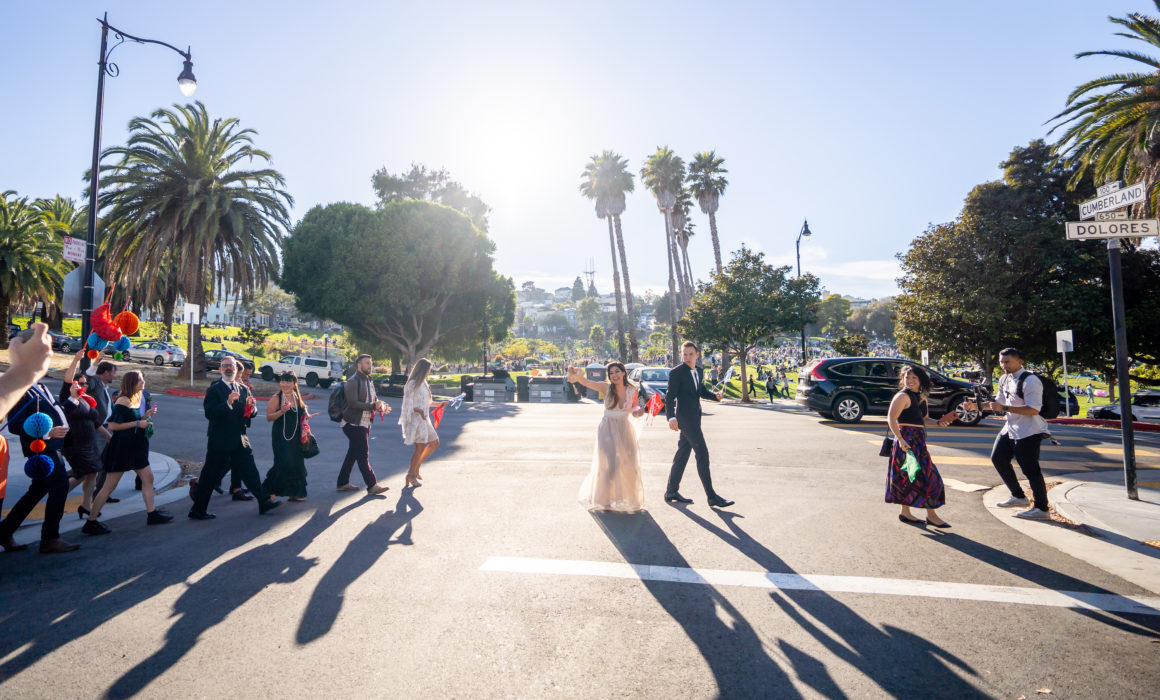 Ning & Noah – An Intimate Backyard Ceremony & Fiesta Wedding Parade
Sometimes you plan weddings and have amazing clients, and just sometimes those clients become your very good friends. I'm so thankful to have met Ning & Noah and helped plan their beautiful and intimate Mission District wedding. 
Ning contacted me to help plan her small, 50 person wedding, with one small kicker — it would take place in her backyard in the Mission, which they were planning to remodel just for the occasion! OKAAYY I love house remodels, especially when I get to help design a wedding to go in it! Ning found me by attending UNDISCOVERED SF. After attending she was inspired by the creative night market and immediately wanted to know who the event planner was so she could hire them. Of course that was me, and I was thrilled!
The overall theme for the wedding was "HOME". Ning & Noah put so much love into the design and remodel of their home, their wedding was to be small and intimate celebrating the fact that their friends & family were like their home to them, and would also be the first time many people would be in their home! I loved the theme right away. 
Inspiration board we created for Ning & Noah
As we worked on the overall wedding plans, every call with Ning was like a creative brainstorm session with constant "riffing". We came up with so many awesome ideas that she was so open to, which I LOVED. They had already booked Lazy Bear Restaurant for the reception, so I was tasked with ceremony design and execution. 
When Ning told me that they'd be walking to Lazy Bear from their house, which was really closeby, I KNEW I couldn't just let them WALK. We had to make it epic! So we created a New Orleans second-line style WEDDING PARADE complete with a 6 piece band, custom Filipino & Jewish inspired parade decor, and personalized handkerchiefs with their initials for everyone to wave on route.
A few of my FAVORITE wedding highlights:
Beautiful florals and ceremony arch throughout their home by Juna Alinea

Custom wood cut name cards in the form of mini pineapples (a theme for Ning) by Leaf & Lace Designs 

The Wedding Parade of course featuring a 6 piece band named Brass Monkey Band. I realized how happy random music makes people! As we walked through the Mission no one seemed to mind being held up in traffic for a minute, and so many people ended up stopping, dancing with us, and taking photos! Music really brings people together.
Comments
comments