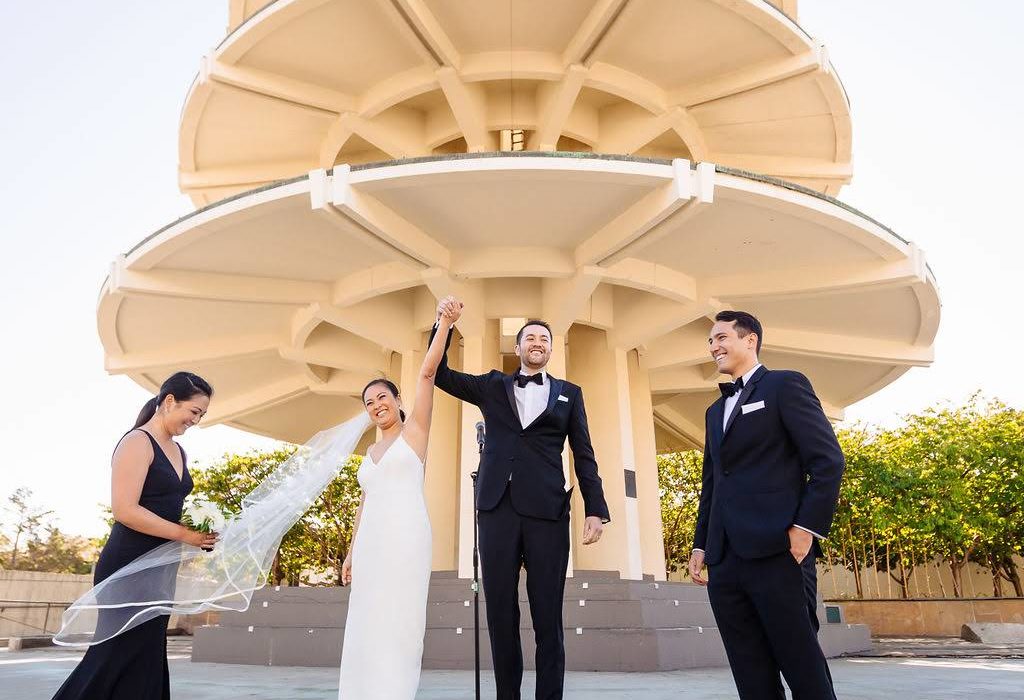 Hillary & Stuart: A Classic Japantown Wedding
I loved Hillary and Stuart from our first meeting at Blue Danube cafe on Clement Street. They were huge Warriors fans, also lived in Inner Richmond (before I moved), and we clicked immediately and felt like old friends. Hillary had grown up at Japantown's JCCCNC (Japanese Cultural and Community Center of Northern California), so they were naturally getting married at Japantown. But the tricky part was the reception would be at the JCCCNC in a newly remodeled basketball gym!
Now my husband is an avid basketball coach so this idea excited me. I had never transformed a gym into a wedding before, but I was up for the challenge. Plus, Japantown is a place that means so much to me personally. As a child, my Japanese/Filipino dad would take me to J-Town and I have fond memories of Isobune, spam musubi, taiyaki, and Sanrio gifts.
Throughout the planning process Hillary and Stu were so chill about EVERYTHING! They trusted my vision when it came to design, and they just wanted to have good ass food, a fun dance party…and a giant ice sculpture shot luge. Needless to say, we got everything except for the luge, but Stu did get a giant Warriors-themed ice sculpture!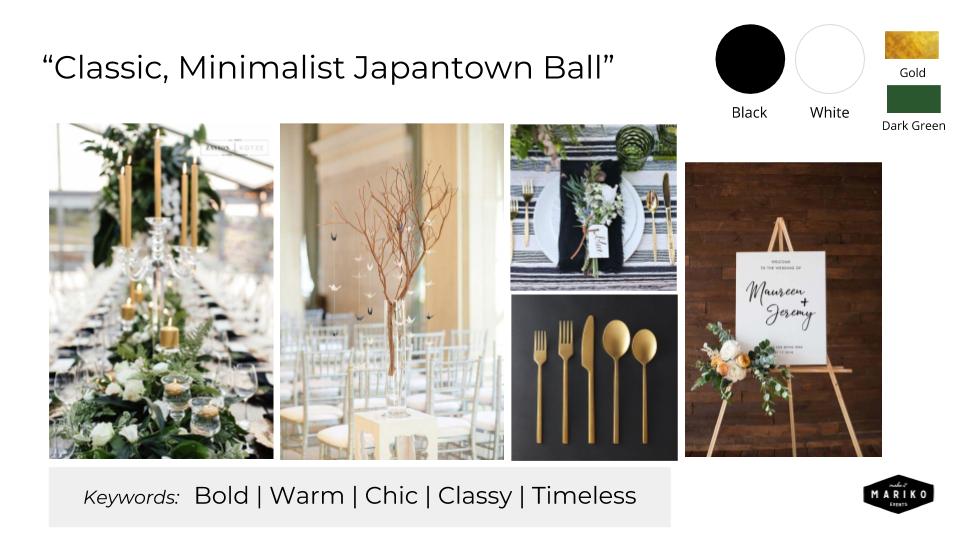 *Design board we created for Hillary & Stuart
We worked with SF Parks & Rec to coordinate the Japantown ceremony, which we'd be able to rope off an area as private, but there were to be many spectators on the side. The day was PERFECT. A little windy, but the sun was shining over the Peace Plaza like it knew we were there. The ceremony was simple, beautiful, tearful, and full of laughter. We created a special Welcome sign with "Over/Under" bets about the couple & wedding since Stu was infamous for his bets.
Afterwards, all the guests walked through J-Town to the JCCCNC, and entered the gym we had transformed with wall to wall white draping, elegant chairs, string lights, a giant checker dance floor, and modern paper crane tree branch centerpieces with lights! Hillary and her friends had made the paper crane backdrop themselves, in true Japanese tradition and it was beautiful.
The night before the wedding, Hillary got really sick and they were worried she wouldn't make it to the wedding. During her final thank you speech, Hillary said, "I knew that Stu was the one when last night he said to me "I don't care if you make it to the reception or afterparty. All I care about is if you make it down the aisle to marry me." (I'm not crying, you're crying…)
It was truly an honor to be a part of their big day!
Comments
comments